Avoid risks of fluctuating transport prices using Mega-Inliner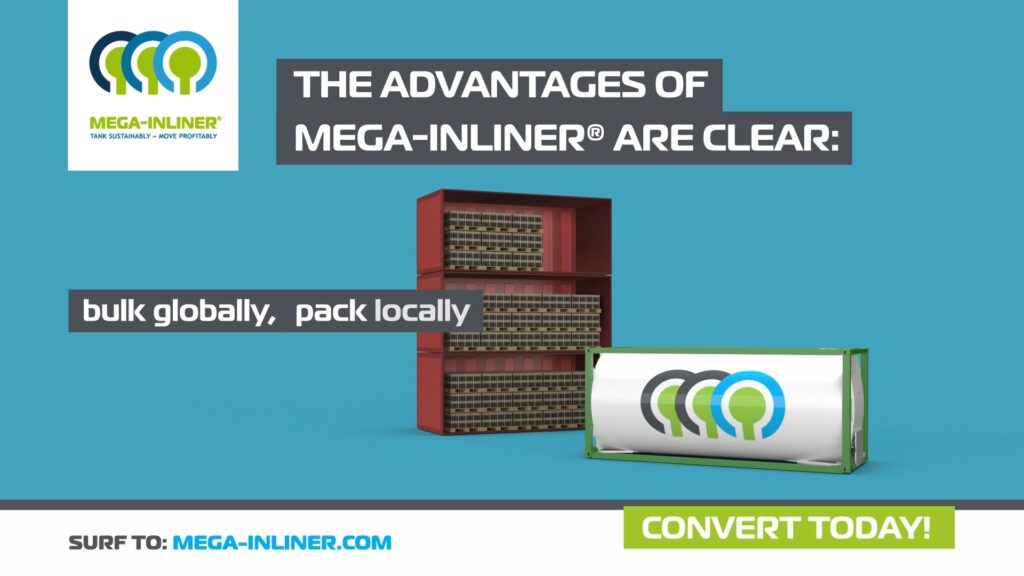 How to avoid risks of fluctuating transport prices
The transport and logistics industry is a highly volatile sector where prices for moving goods can change rapidly, so making long-term agreements is therefore becoming very difficult and risky. These changes can occur due to various events such as port closures (as in the corona pandemic), labour shortages, imbalance containers and highly fluctuating oil prices due to geopolitical reasons. Therefore, it is important to keep the risk as low as possible. By transporting with Mega-Inliner®, you have the possibility to transport more tonnages per TEU compared to pre-packed goods in box containers. By transporting in bulk, it is possible to transport 2.5X as much product volume per TEU including all other advantages the Mega-Inliner® System has to offer. This makes it possible to absorb price increases and allows you to agree fixed prices within a price range with your customer at an early stage without surprises for booth parties. Start shipping bulk globally & pack locally to reduce risks and respond easily to changes in the market. As simple as it sounds the more Mt/TEU the easy to deal with the volatile shipping prices per TEU on carriers.
 Why choose Mega-Inliner to ship in bulk.
Loading capacity optimisation: We focus on maximising loading capacity for our customers. With our system, it is possible to fully load 25,000L / 36Mt max p/TEU in an ISO tank container which is designed to carry liquids and makes bulging, leaking and collateral damage belong to the past. By optimising loading capacity, we can reduce the number of transport trips required and lower the cost & Co2 p/Mt of product shipped. Shortage of drivers can be counter acted by higher efficiency. Deu to Mega-Inliner® full (FCL) is actual full (FCL), we don't use or need an 1.000 ltr headspace to prevent product is being ejected through safety valve through sloshing or increased pressure.
Route planning optimisation: We use advanced route planning software to determine the most efficient routes and align the flows of different customers without any prior/previous cargo restrictions. By optimising routes, we can minimise the distance travelled and reduce fuel costs and CO2 emissions.
Implementation of sustainable transport solutions: Mega-Inliner invests and commits to sustainable transport solutions to reduce costs and minimise environmental impact. The basis is our Mega-Inliner® a bag-in-tank that makes cleaning the container and all the costs involved obsolete. In addition, the container is immediately ready for the next load without restrictions from previous loads. Because your product is shipped in large volumes, in a closed airtight environment and isn't in contact with the metal surface of the container, your product remains in mint condition. Ergo no change on cross-contamination claims afterwards as TT-Club underwrites. In addition to our system, we also offer our customers various solutions to further enhance their operations, check out our equipment Feed, before Food, before Hallal, before Kosher and starting with Aseptic is possible.
Leveraging technology: Mega-Inliner uses advanced technologies such as fleet management systems to optimise our transport processes. We collect data such as tank container location, outside temperature, and product temperature. In this way, we can increase efficiency and collect data to give our customers the best insights into what status their product is in and where this cargo is.
Whether you use the Mega-Inliner® System in your supply chain for intercompany transport, bottling, local or intercontinental transport. You will experience benefits in terms of cost savings, Co2 reduction and assurance of maintaining product quality.
Interested in reducing risks, costs and Co2? Get in touch now, convert to the Mega-Inliner® System. Please contact cla@mega-inliner.com or call +31 6 53 59 39 49
Mega-Inliner® is a combination of 2 everyday used bulk transport systems, we bring the best of these 2 worlds together for the best solution available on the market in transporting non-hazardous liquids. An environmentally conscious transport system that reduces Co2 emissions enormously and is also extremely cost-efficient. By using the Mega-Inliner System® planning becomes child's play when connecting Inbound and Outbound flows.
100% product quality,

No degradation
No oxidation due to closed system when (un)loading
No (de)saturation – carbonated products
Temperature control (from -8c to 71c) , cooling or heating

Lowest product spill/residue per load
Lowest Co2 footprint possible per Mt product in total supply chain
No cross-contamination
No previous cargo restrictions
No cleaning or rinsing of the tank, saving water, energy, and chemicals
No empty kilometres or depot costs
FDA & EU Food approved
Halal & Kosher
Mega-Inliner® 100% Recyclable (single source material)
Aseptic loading, transport, and unloading possible
Suitable for storage, longer shelf life
One-man operation, short lead time
No people on top of or in the tank.
Connecting inbound and outbound logistics
Depending on the current supply chain we can be competitive with all. If you are transporting ready-to-drink in bottles now, the impact of using our system is huge, but changing the supply chain takes more time, switching from conventional tank container or flexitank to Mega-Inliner® is easy and gives you the benefits immediately. All other IBCs, Drums, kegs, etc are somewhere in the middle.
By using the Mega-Inliner® System it is possible to go directly to the next loading location without the need for cleaning between each load. Therefore, costs such as driver wages, cleaning costs and waiting time are being saved. Because there will be no residue left behind in the tank all costs of product being wasted are eliminated. Due to our Mega-Inliner®, your product will be shipped in a clean and closed environment and therefore there is no chance of cross-contamination or other problems.
By using the Mega-Inliner® System your Co2 emission will be reduced by a minimum of 30%. The Mega-Inliner® is 100% recyclable and cleaning of the Tank Container becomes obsolete. Our system makes it possible to connect Inbound and Outbound logistics by simply removing the Mega-Inliner® after each load, this results in no empty kilometres to and from cleaning stations, wastage of valuable (drinking) water belongs to the past (saving ± 2,500 litres per cleaning), no chemicals for cleaning are necessary. Ship your foodstuff or other non-hazardous liquids in bulk globally and pack locally save up to 60% on transport costs and reduce a minimum of 30% on your Co2 emission.
We have the best solution for your business.
Challenge us! Ask a quotation for your needs.