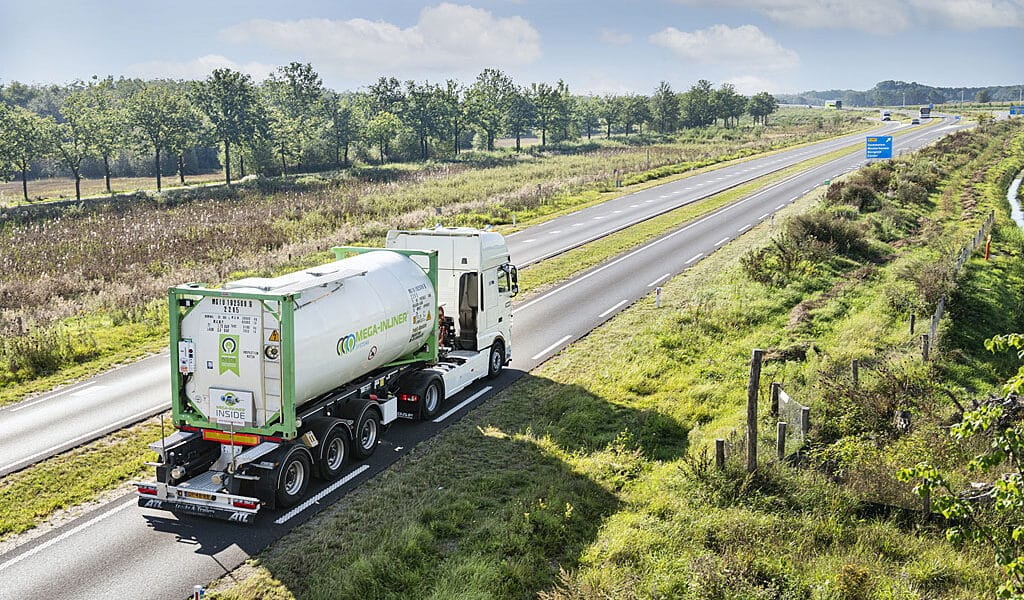 The Mega-Inliner® Transport System is the combination of the Mega-Inliner® Tank Container and the Mega-Inliner® (big bag of recyclable multilayer high tech food grade foil). The system enables risk free transport of all liquid foodstuff and non-hazardous products all over the world from local, short distances to Deepsea pan continental streams. Logistic can be arranged by the customer or if desired managed with our partners by us.
We can convert all kinds of existing transport solutions
to the Mega-Inliner®
The following benefits apply immediately:
No tank cleaning / rinsing required
No cleaning costs
No empty transport to and from cleaning station
No waiting times at the cleaning station
No use of chemicals

resulting in less wear on the container
therefore, longer life of the container
therefore, lighter container possible at the start

No chemical waste streams
No water wastage up to an average of 2.750 liters per cleaning
No energy required heating up the cleaning water
Can be used again for a next load, regardless of which, within 30 minutes
No complicated administration of previous loads due to (cross) contamination risk, resulting in a significant reduction of allocation costs by balancing on lanes
Better use of containers with less empty kilometers
No rejection at the plant of tank container (empty or full) due to cross contamination or problems with product quality due to product degradation (for example by oxidation).
The following benefits apply immediately:
Loading process much easier
No risks of leakage
Unloading process much easier
Significant less loss of "product"
No damage to box container (5%)
less plastic use of all kilograms of inliner from individual drums to only 15kg of the Mega-Inliner® per TEU
Much less filling operations
Far fewer unloading operations
Much less waste of product left in all individual empty inliners per drum / IBC
No pollution from empty drums
Much less containers needed for the same volume (1 to 2,5)
Much lower transport costs per ton product
Much less capital (packaging) in the supply chain
Filling on location closer to the customer
The Mega-Inliner® system consists of a Mega-Inliner® Tank Container combined with the patented
Mega-Inliner®. With our system, you can transport your product in the safest, most sustainable, and efficient way available on the market. With the Mega-Inliner®, your product does not come into contact with metals and gases cannot escape nor enter the product resulting in your product arriving on site in top condition.
Mega-Inliner® is a combination of 2 everyday used bulk transport systems, we bring the best of these 2 worlds together for the best solution available on the market in transporting non-hazardous liquids. An environmentally conscious transport system that reduces Co2 emissions enormously and is also extremely cost-efficient. By using the Mega-Inliner System® planning becomes child's play when connecting Inbound and Outbound flows.
100% product quality,

No degradation
No oxidation due to closed system when (un)loading
No (de)saturation – carbonated products
Temperature control (from -8c to 71c) , cooling or heating

Lowest product spill/residue per load
Lowest Co2 footprint possible per Mt product in total supply chain
No cross-contamination
No previous cargo restrictions
No cleaning or rinsing of the tank, saving water, energy, and chemicals
No empty kilometres or depot costs
FDA & EU Food approved
Halal & Kosher
Mega-Inliner® 100% Recyclable (single source material)
Aseptic loading, transport, and unloading possible
Suitable for storage, longer shelf life
One-man operation, short lead time
No people on top of or in the tank.
Connecting inbound and outbound logistics
Depending on the current supply chain we can be competitive with all. If you are transporting ready-to-drink in bottles now, the impact of using our system is huge, but changing the supply chain takes more time, switching from conventional tank container or flexitank to Mega-Inliner® is easy and gives you the benefits immediately. All other IBCs, Drums, kegs, etc are somewhere in the middle.
By using the Mega-Inliner® System it is possible to go directly to the next loading location without the need for cleaning between each load. Therefore, costs such as driver wages, cleaning costs and waiting time are being saved. Because there will be no residue left behind in the tank all costs of product being wasted are eliminated. Due to our Mega-Inliner®, your product will be shipped in a clean and closed environment and therefore there is no chance of cross-contamination or other problems.
By using the Mega-Inliner® System your Co2 emission will be reduced by a minimum of 30%. The Mega-Inliner® is 100% recyclable and cleaning of the Tank Container becomes obsolete. Our system makes it possible to connect Inbound and Outbound logistics by simply removing the Mega-Inliner® after each load, this results in no empty kilometres to and from cleaning stations, wastage of valuable (drinking) water belongs to the past (saving ± 2,500 litres per cleaning), no chemicals for cleaning are necessary. Ship your foodstuff or other non-hazardous liquids in bulk globally and pack locally save up to 60% on transport costs and reduce a minimum of 30% on your Co2 emission.
We have the best solution for your business.
Challenge us! Ask a quotation for your needs.