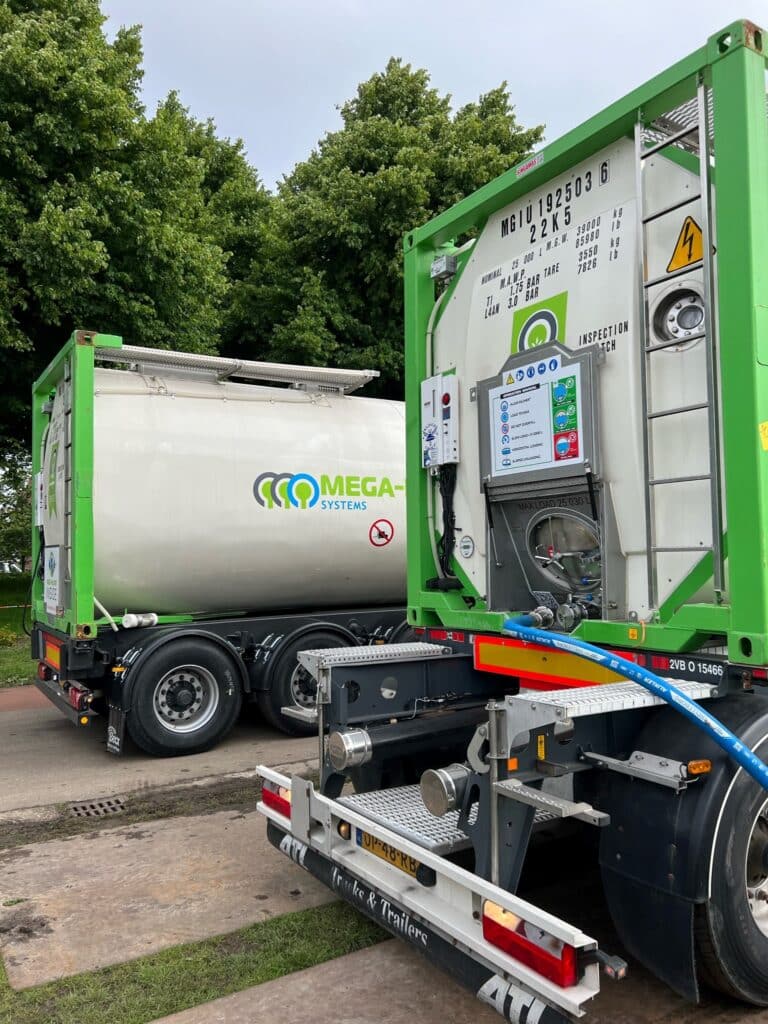 Mega-Inliner is founded in 2016 with the mission to provide the world's most sustainable, cost-efficient and innovative logistical bulk solution for all non-hazardous liquids, foodstuff and all others. Connecting the best of 2 worlds (traditional ISO tanks & Flexitanks) enables us to transform the tank container industry into a durable sector. Ship your non-hazardous liquid with Mega-Inliner, conquer the world and leave the planet in a better shape for the next generations.
Our total system stands out by its simplicity. Yet, it has an unprecedented impact on the way in which non-hazardous liquids are being transported in large quantities from 2 compartments of 110HL to our standard ISO tank of 250HL (ambient or heated/cooled) up to a 290HL non-reefer swap tank.
The foundation of this innovation is a bag made from high-tech food-grade foil, the Mega-Inliner®. When the Mega-Inliner® is placed in one of our own designed Mega-Inliner® Tank Containers, it can be filled with any non-hazardous liquid. Oxygen can't enter and gasses can't escape the liquid, therefore all products arrive in top condition and the tank container stays clean, ready for the next load. To manage this process, we only use compressed air, no pumps are needed. In addition, barely any liquid remains inside the Mega-Inliner® once it has been emptied. Installing a Mega-Inliner® only takes five minutes, and its removal takes fifteen minutes. From now on, any Mega-Inliner® tank container in stock (leased) combined with a Mega-Inliner® is ready for immediate use without any prior cargo restrictions, making your transport highly sustainable and cost-efficient.
Sustainable & Efficient Transporting Solution
Every Mega-Inliner®
produced in the Netherlands!
Transforming the tank container industry into a sustainable sector
Transporting your non-hazardous liquids with lowest Co2/Mt product/Km
Maximum efficiency of your transport flows
Halving the Carbon Footprint of our customers
Increase competitive advantage for our customers with the lowest: CapEX, OpEX, LogEX on the market
We have the best solution for your business.
Challenge us! Ask a quotation for your needs.