Mega-Inliner & Torwesten forge groundbreaking strategic partnership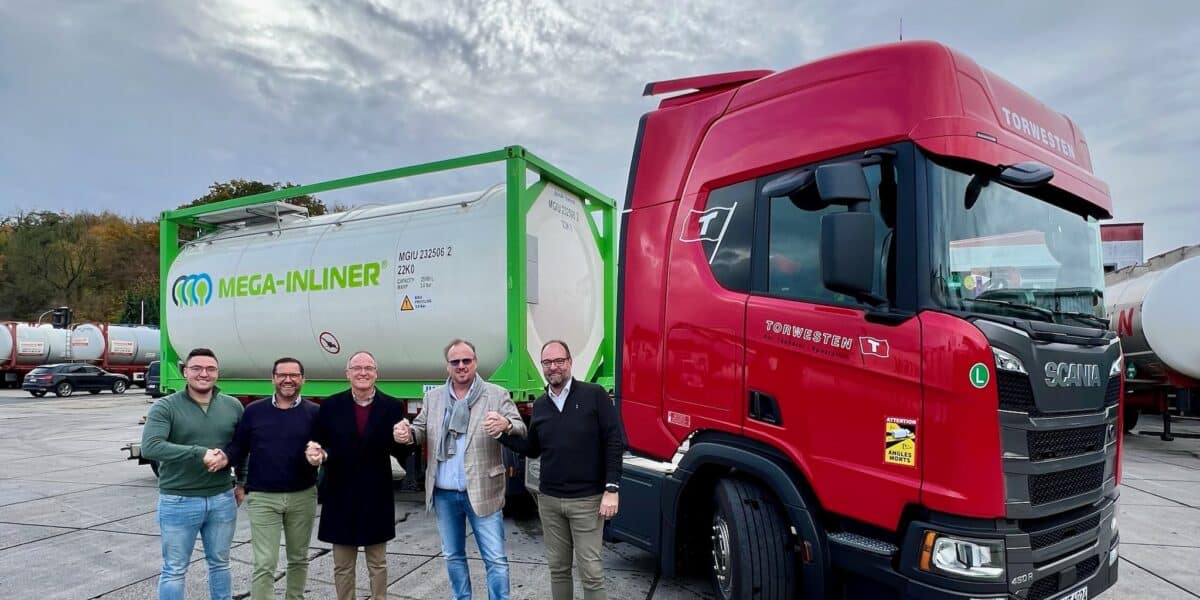 Mega-Inliner & Torwesten forge groundbreaking strategic partnership to revolutionize sustainable bulk beer and other non-hazardous liquids transportation.
VALKENSWAARD (NLD)/ ESSEN (GER), Tuesday 14th November 2023
Mega-Inliner International Group B.V., a trailblazer in sustainable logistic bulk transport of non-hazardous liquids, and Torwesten Spedition GmbH & Co. KG, a European market leader as top-notch specialist for beer transportation solutions, are proud to announce a transformative partnership that will realize a reshape next to the bulk beer transportation of the total non-hazardous liquids logistical industry while championing proven sustainability, costs and climate consciousness.
The two supply chain innovators have formalized an exclusive agreement dedicated to sustainable beer and all other non-hazardous liquid transportation. Realizing reduction on carbon emissions, minimizing drinking water, energy spillage, and fostering environmental responsibility across the supply chain.
Sidon van Laarhoven, CEO of Mega-Inliner, and Marc de Kort, CEO of Torwesten, highlight the vast potential for sustainability in the food liquids transport market. Their joint initiative focuses on: 1) Reducing mileage: By adopting the Mega-Inliner® System solution, the industry can significantly cut down on truck mileage for going to and from depot for cleaning, rinsing, and pressurising with Co2, resulting in a substantial reduction in greenhouse gas emissions. 2) Water and resource conservation: The partnership promotes the efficient use of resources by avoiding the consumption of drinking water and detergents for cleaning, as well as reducing CO2 emissions associated with pressurising and unloading processes of carbonated liquids such as Beer and other foodstuffs. 3) Sustainable container reuse: The Mega-Inliner® System introduces the possibility of unlimited reusing empty tank containers for counterflows, offering a significantly higher payload ergo sustainable alternative that was previously unavailable by prior cargo restrictions.
For Torwesten, the Mega-Inliner® System adds a valuable dimension to their existing portfolio of beer transportation solutions. The tank containers are multi-functional for all transport modalities as well as festival and last-mile hub beer distribution. Units are available from 10m3 up to 31m3, with or without a reefer/heating system. As for Mega-Inliner, the strategic alliance opens up the possibility to offer their shippers a pan-European door-to-door supply chain solution.
Early adopters, such as brewery Mahou, BrewDog, AB InBev, Asahi as also AECI and Coca-Cola, have successfully used and integrated the Mega-Inliner® System into their operations for over 3 years, showcasing its practicality and effectiveness. Moreover, several prominent industry players as Cargill and Barry Callebaut joined the initiative last year by participating in various R&D tests and initial trial shipments. The possibility for Aseptic loading opens new markets where drums and IBC's are the standard now.
Both Mega-Inliner and Torwesten plan to expand their fleet of tank containers rapidly to harness the full potential of the worldwide patented Mega-Inliner® System innovation in the coming years. Preparing themselves for endless growth and expansion. Van Laarhoven and De Kort anticipate a significant rollout in 2024.
This partnership reflects Mega-Inliner and Torwesten's commitment to driving positive sustainable change in the beer & non-hazardous liquids transportation sector while addressing pressing environmental concerns. It stands as a testament to their dedication to sustainability and innovation to make it a better world for the next generations.
About Mega-Inliner International Group B.V.:
Mega-Inliner is a pioneering disruptive company in sustainable logistics, specializing in revolutionary transportation solutions that minimize environmental impact and enhance operational efficiency.
About Torwesten Spedition GmbH & Co. KG:
Torwesten is an industry leader in innovative bulk beer transportation solutions, offering a diverse portfolio of services aimed at optimizing supply chain operations while prioritizing sustainability and customer satisfaction.
For more information please contact our sales department cla@mega-inliner.com or call +31 6 53 59 39 49.
Mega-Inliner® is a combination of 2 everyday used bulk transport systems, we bring the best of these 2 worlds together for the best solution available on the market in transporting non-hazardous liquids. An environmentally conscious transport system that reduces Co2 emissions enormously and is also extremely cost-efficient. By using the Mega-Inliner System® planning becomes child's play when connecting Inbound and Outbound flows.
100% product quality,

No degradation
No oxidation due to closed system when (un)loading
No (de)saturation – carbonated products
Temperature control (from -8c to 71c) , cooling or heating

Lowest product spill/residue per load
Lowest Co2 footprint possible per Mt product in total supply chain
No cross-contamination
No previous cargo restrictions
No cleaning or rinsing of the tank, saving water, energy, and chemicals
No empty kilometres or depot costs
FDA & EU Food approved
Halal & Kosher
Mega-Inliner® 100% Recyclable (single source material)
Aseptic loading, transport, and unloading possible
Suitable for storage, longer shelf life
One-man operation, short lead time
No people on top of or in the tank.
Connecting inbound and outbound logistics
Depending on the current supply chain we can be competitive with all. If you are transporting ready-to-drink in bottles now, the impact of using our system is huge, but changing the supply chain takes more time, switching from conventional tank container or flexitank to Mega-Inliner® is easy and gives you the benefits immediately. All other IBCs, Drums, kegs, etc are somewhere in the middle.
By using the Mega-Inliner® System it is possible to go directly to the next loading location without the need for cleaning between each load. Therefore, costs such as driver wages, cleaning costs and waiting time are being saved. Because there will be no residue left behind in the tank all costs of product being wasted are eliminated. Due to our Mega-Inliner®, your product will be shipped in a clean and closed environment and therefore there is no chance of cross-contamination or other problems.
By using the Mega-Inliner® System your Co2 emission will be reduced by a minimum of 30%. The Mega-Inliner® is 100% recyclable and cleaning of the Tank Container becomes obsolete. Our system makes it possible to connect Inbound and Outbound logistics by simply removing the Mega-Inliner® after each load, this results in no empty kilometres to and from cleaning stations, wastage of valuable (drinking) water belongs to the past (saving ± 2,500 litres per cleaning), no chemicals for cleaning are necessary. Ship your foodstuff or other non-hazardous liquids in bulk globally and pack locally save up to 60% on transport costs and reduce a minimum of 30% on your Co2 emission.