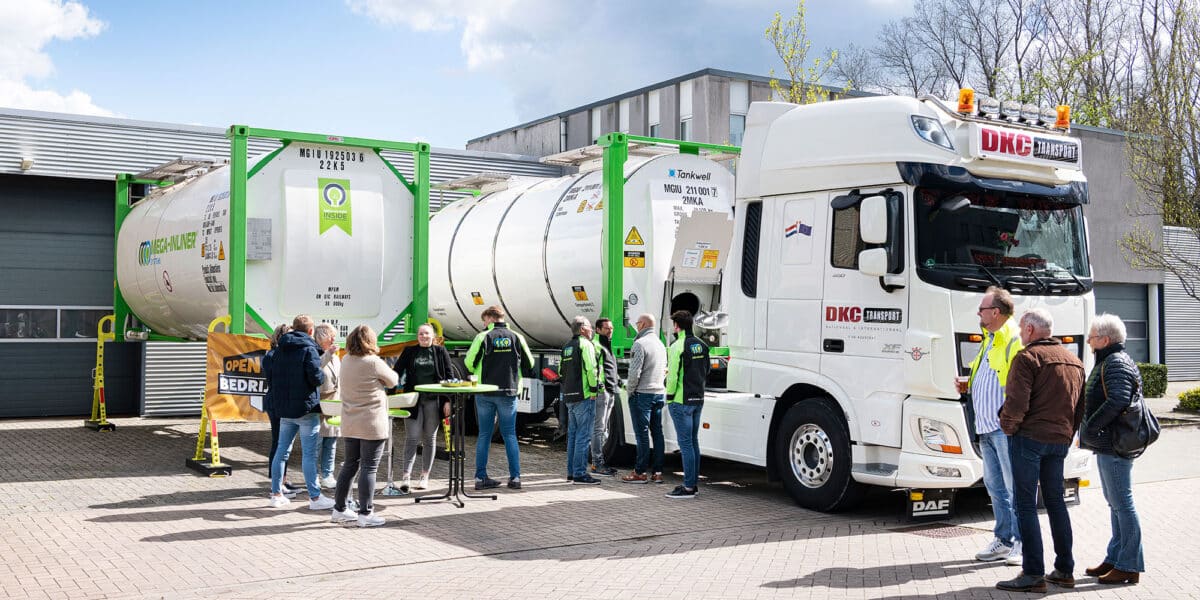 Neem een kijkje bij de innovatie binnen de transport en logistieke sector!
Na het grote succes van vorig jaar opent Mega-Inliner ook dit jaar weer haar deuren tijdens de open bedrijven dag!
Op 25 maart 2023 van 10:00 tot 16:00 uur openen wij onze deuren, speciaal voor jou! Met bezoekers van jong tot oud is de Open Bedrijven Dag in de Kempen voor iedereen een feestje. Wij van Mega-Inliner bieden de innovatie op het gebied van het vervoeren van niet gevaarlijke vloeistoffen, denk hierbij aan:
Bier en dranken
Wijn
Sappen en NFC
Koolzuurhoudende dranken
Oliën en vetten
Chocolade
Zuivelproducten
Niet gevaarlijk chemicaliën
Andere niet gevaarlijke vloeistoffen
Dit doen wij met het wereldwijd gepatenteerde Mega-Inliner® Systeem. Dit systeem bestaat uit onze Mega-Inliner® Tank Container en de door ons zelf in Valkenswaard geproduceerde Mega-Inliner®. Ons systeem zorgt ervoor dat onze klanten kosten besparen maar nog belangrijker,  het terugdringen van de CO2 uitstoot in de supply chain.
Ben jij benieuwd hoe dit werkt of hij wij deze Mega-Inliner® maken?
Kom dan zeker even een kijkje nemen onder het genot van een lekker drankje en hapje terwijl één van onze Vikingen het systeem uitlegt.
Mega-Inliner® is a combination of 2 everyday used bulk transport systems, we bring the best of these 2 worlds together for the best solution available on the market in transporting non-hazardous liquids. An environmentally conscious transport system that reduces Co2 emissions enormously and is also extremely cost-efficient. By using the Mega-Inliner System® planning becomes child's play when connecting Inbound and Outbound flows.
100% product quality,

No degradation
No oxidation due to closed system when (un)loading
No (de)saturation – carbonated products
Temperature control (from -8c to 71c) , cooling or heating

Lowest product spill/residue per load
Lowest Co2 footprint possible per Mt product in total supply chain
No cross-contamination
No previous cargo restrictions
No cleaning or rinsing of the tank, saving water, energy, and chemicals
No empty kilometres or depot costs
FDA & EU Food approved
Halal & Kosher
Mega-Inliner® 100% Recyclable (single source material)
Aseptic loading, transport, and unloading possible
Suitable for storage, longer shelf life
One-man operation, short lead time
No people on top of or in the tank.
Connecting inbound and outbound logistics
Depending on the current supply chain we can be competitive with all. If you are transporting ready-to-drink in bottles now, the impact of using our system is huge, but changing the supply chain takes more time, switching from conventional tank container or flexitank to Mega-Inliner® is easy and gives you the benefits immediately. All other IBCs, Drums, kegs, etc are somewhere in the middle.
By using the Mega-Inliner® System it is possible to go directly to the next loading location without the need for cleaning between each load. Therefore, costs such as driver wages, cleaning costs and waiting time are being saved. Because there will be no residue left behind in the tank all costs of product being wasted are eliminated. Due to our Mega-Inliner®, your product will be shipped in a clean and closed environment and therefore there is no chance of cross-contamination or other problems.
By using the Mega-Inliner® System your Co2 emission will be reduced by a minimum of 30%. The Mega-Inliner® is 100% recyclable and cleaning of the Tank Container becomes obsolete. Our system makes it possible to connect Inbound and Outbound logistics by simply removing the Mega-Inliner® after each load, this results in no empty kilometres to and from cleaning stations, wastage of valuable (drinking) water belongs to the past (saving ± 2,500 litres per cleaning), no chemicals for cleaning are necessary. Ship your foodstuff or other non-hazardous liquids in bulk globally and pack locally save up to 60% on transport costs and reduce a minimum of 30% on your Co2 emission.